Un studio photographique ambulant à votre disposition lors de vos événements et mariages.
Notre studio mobile est une experience  divertissante lors de votre mariage et de vos événements. Que vous recherchiez une ambiance sérieuse, théâtrale, élégante ou festive, nous saurons capturer l'esprit de vos invités. Pendant que nous développons les photos en public, nous les exposons pour que vos convives puissent les découvrir. Ensuite, chacun repartira avec son image placée dans une enveloppe personnalisée qui pourra être glissée en toute sécurité dans une veste ou un sac à main.
We offer a unique way of taking
 

portraits of you and your family and friends at events and weddings.

Our mobile studio will become a place of fun and play. Serious, theatrical, elegant or wild, we will capture the spirit of your guests. They can witness the magic of the Box Camera by observing the developing process. The image will then be placed in a customized envelope that can be safely kept in a jacket or handbag throughout the night.
Qu'est-ce qu'une Box Camera?
Une Box Camera est un appareil photographique en bois qui date de la fin du 19 ème siècle. Le mode d'emploi n'a pas changé depuis sa création. La prise de vue demande une composition et une participation du sujet qui donne tout son charme à cette pratique classique de la photographie de portrait. Notre pratique de la prise de vue renoue avec la tradition événementielle photographique qui voit le public participé à l'élaboration de ce qui va devenir un souvenir impérissable. 
En nous invitant, nous vous ferons partager notre passion de vous mettre en scène devant notre chambre magique d'où émergeront des très beaux souvenirs. 
Le studio mobile crée un contexte ludique qui s'inscrit merveilleusement dans une cérémonie de mariage ou un événement. Il nécessite très peu d'espace et il peut s'adapter à toute une série de lieux. 
Suspendre le temps et le fixer sur une feuille pour l'éternité … Voilà notre proposition imagée dans un esprit de partage et de joie ! 
What is a Box Camera?

 
Wooden Box Cameras have their origins in the late 19th century and offered instant souvenirs on public squares and parks throughout the world. The camera was largely forgotten in the last 50 years and we are reviving this wonderful tool, which is both a portable camera and a darkroom. Our photographs are developed by hand on professional-grade photographic paper and can last a century. 
Our mobile photography studio creates a playful context that easily fits into a wedding ceremony or event. The Box Camera is portable and the photographic experience can be tailored to a wide range of locations. 
Capturing unique moments instantly, with artistry and authenticity. This is the spirit we want to share with you.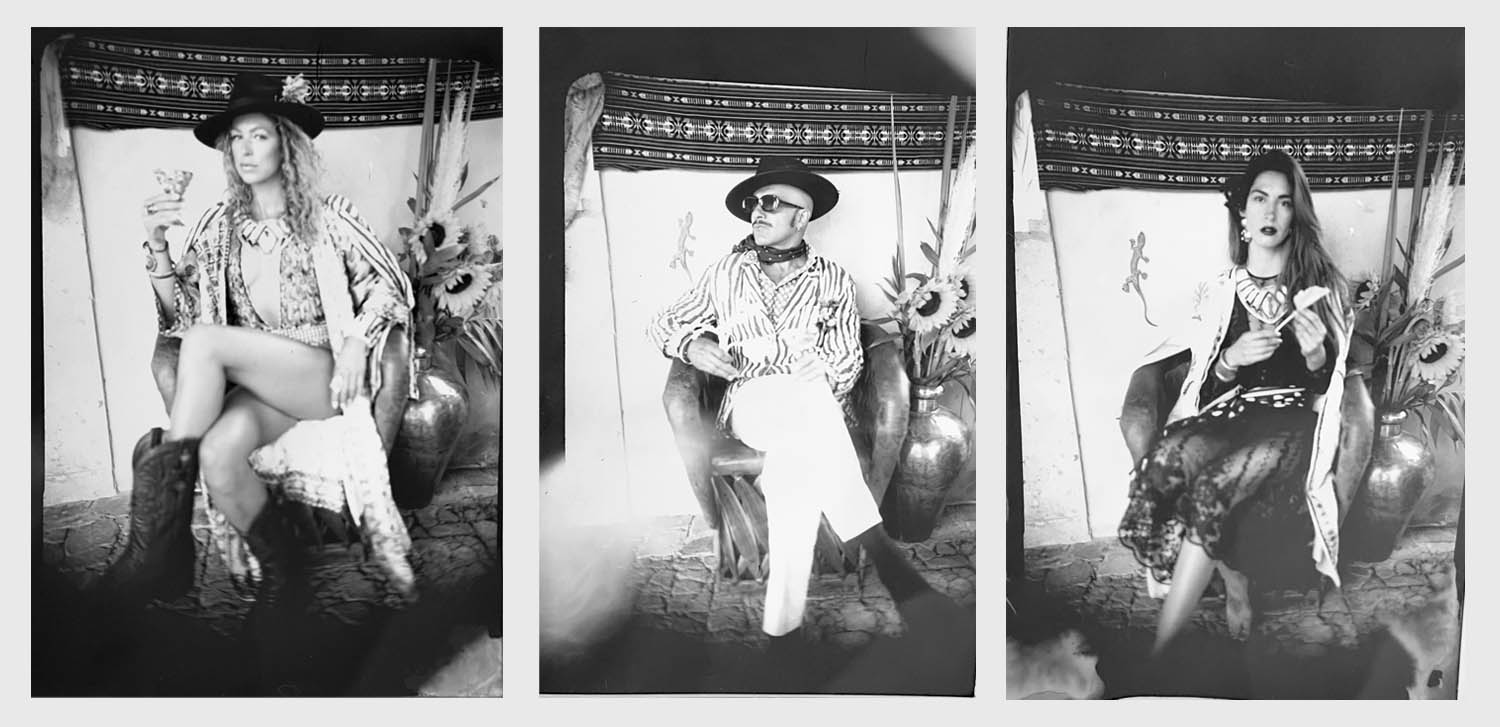 Les Photographes / The photographers
Nora et Lukas aime partager leur passion pour cette boite magique. Leur joie est contagieuse et saura créer un événement amusant et mémorable pour vous et vos proches.
---
Nora and Lukas love to share their passion for this historical wooden box. Their joy and knowledge is contagious. Let them create a memorable event for you and your loved ones.
Lukas Birk est un expert et un auteur publié sur la photographie à la Box Camera. Des recherches approfondies en Afghanistan, au Pakistan et en Inde au cours des 15 dernières années ont permis à Lukas d'apprendre ces techniques historiques spécifiques de photographie et de développement. Lukas a fait de la photographie à la Box Camera un sujet pertinent dans la culture populaire en partageant avec enthousiasme son savoir-faire en ligne et dans ses publications. (www.boxcameranow.com)
Nora Jaccaud est une artiste visuelle, documentariste et conteuse. Lukas a enseigné à Nora l'art de la Box Camera, qu'elle combine avec son expérience de cinéaste voyageur. Nora a créé une série mondiale de courts métrages – Human Postcards (www.humanpostcards.com) – où l'étude de l'identité individuelle est transformée en grand art. Elle a grandi dans le Luberon et saura intégrer sans effort la beauté de la région dans la documentation de vos événements.
Lukas Birk is a leading expert and published author on Box Camera photography. Extensive research in Afghanistan, Pakistan and India during the last 15 years has allowed Lukas to learn these specific historical techniques of photography and developing. Lukas made Box Camera photography relevant in pop culture by enthusiastically sharing his savoir- faire online and through publications. (www.boxcameranow.com)
Nora Jaccaud is a visual artist, documentariste, and storyteller. Lukas taught Nora the art of the Box Camera, which she combines with her experience as traveling filmmaker. Nora has created a global shortfilm series – Human Postcards (www.humanpostcards.com) – where the study of individual identity is transformed into high art. She grew up in the Luberon and will effortlessly incorporate the beauty of the region into the documentation of your special events.
Notre Formule
Séance spéciale avec les mariés
Séance photo avec vos invités
Développement des photos sur place
Préparation des photos dans des enveloppes personnalisées, prêtes à être emporté par vos invités
Numérisation de toutes les images et livraison des fichiers numériques.
Contactez-nous pour plus d'informations.
Our Package
Custom photo shoot with your guests
For weddings : Special photo shoot with the bride and groom
On-sight development of the photographs
Personalised envelopes for guests to take their photos home after the event
Digitisation of all images and delivery of digital files for eternal memories
Please inquire for customized experiences.